Posted on 2016-07-15 11:07:57 by Leury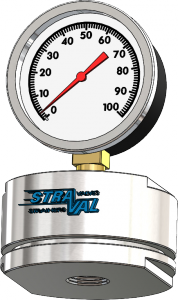 Pressure gauge isolator / guard
is designed to protect delicate instruments from process fluids. It can be
utilized with pressure gauges
(up to 3.5" diameter Max), sensors, switches or any other instrument you
would like to protect
under pressure from the process fluid. (Instruments used should not require more than .2 cubic inches of displacement to operate properly through their entire range!)
Pricing is readily available on our website
www.Straval.com
Designed for clean, filtered or strained, non-abrasive liquid service: oils, lubricants, greases, solvents, and aggressive chemical applications.


Straval Isolator / Guard utilizes a molded diaphragm which offers maximum volumetric displacement and accuracy! Will transfer reading within 1% of full scale.


The threaded design allows for easy field maintenance or material changes as needed.


The use of an O-ring seal under the instrument eliminates the need for a bleed screw when installing the instrument on the isolator.


Seal: Non-wetted used for sealing the monitoring instrument (Gauge/Switch): Viton


Instrument side connection: ¼" Female NPT


Process side: ½" Female NPT


Available wetted materials are 316SS, Monel, Titanium, HASTC276, Alloy20.
With a variety of construction material options, the Series GIS20 Gauge guard Isolator
can cater to most applications
, protecting the monitoring instruments without contaminating the process fluid!